WHEN TO WEAR A SUIT
WHEN TO WEAR A SUIT
Hey guys, Dan Thomas from Image Doctor and Improvemant.com and watch the video above or read the article below to learn WHEN TO WEAR A SUIT .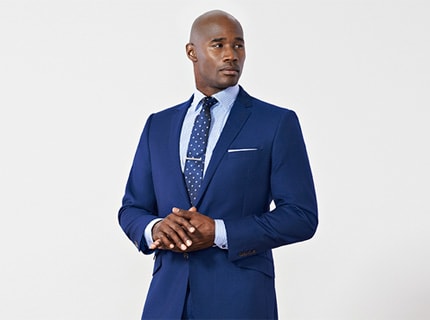 photo http://www.marksandspencer.com
The most common occasions when a man is expected to wear a suit is as follows:
JOB INTERVIEWS 
When interviewing for a job, the vast majority of industries will require you to wear a suit. There may be some exceptions such as more creative, artistic and trade based industries.
But the majority of job interviews will require a suit and tie if you want to stand any chance of getting the job. If you're unsure then you're best to wear a suit and tie as being overdressed is a far better outcome than being under dressed.
Regarding the best suit colour for a job interview, it's well known among HR and hiring managers that the navy suit is seen as the best colour for interviewing as this colour has been shown to offer unconscious messages of professionalism, maturity and a serious approach to the task at hand.
Read more about the psychology of clothing colour choices.
NAVY SUIT
photo http://airows.com/
MEETING TO DISCUSS A PROMOTION/PAY RISE 
If you hold a position in the corporate or sales world but don't typically wear a suit and tie. It's my suggestion that you do wear a suit and tie or at least a suit if you have been formally advised to attend a meeting to discuss a promotion or pay rise.
Doing so will prove that you are giving this important discussion the weight it deserves and the outcome means enough to you that you wanted to elevate the effort you make with your presentation.
When you do attend these types of meetings I suggest wearing a dark green tie as this colour offers connotations to growth and money which is the underlying purpose of the meeting taking place.
GREEN TIE 
photo https://www.pinterest.com
FUNERALS
The next occasion is attending a funeral which ideally requires you to wear a dark suit such as black, charcoal, dark grey or navy if that's the only suit you own. Whilst some families choose to owner the deceased by requesting the attendees dress in bright colours, it is significantly more common for dress code to be  dark suit and often this also includes an accompanying dark tie.
WEDDINGS 
Unless the invitation states otherwise, you should always wear a suit when attending a wedding. Like with a funeral, there are some occasions when  the bride and groom will specifically request a non traditional dress code which may be more casual if the wedding is more low key,  a summer attire it's a beach or island wedding and whilst far less common again there is a possibility you could one day attend a themed wedding which will include very specific dress code instructions.
When you are attending a traditional wedding requiring a suit to be worn, a 3 piece suit is more than acceptable for these occasions.
HORSE RACES 
Attending the horse races is another occasion when a man should definitely wear a suit. For many people the horse races is like a public fashion show and I certainly suggest all men make a strong effort to dress well when going to the track.
photo http://www.heraldsun.com.au/
photo http://www.executivestyle.com.au/
The races is a more fun, jovial occasion in which your choice of suit style and colour has far more freedom and flexibility. If you do own suits that have less traditional colours and patterns that express your style and personality then the races is certainly the day to show case this style and have some fun.
ATTENDING COURT 
If you've found yourself  are in the unfortunate scenario of attending court as a defendant then be sure to do so wearing a respectable looking suit. In this instance, whilst darker colored suits like navy, charcoal and dark grey are best you actually want to avoid wearing a black suit as this can be intimidating and threatening which is the very last message you want to be sending (just think how often the villains in movies are dressed in black)
When attending court you also want to avoid very light colored summer and pastel type suits which demonstrate a less serious approach to the event.
UPSCALE EVENTS 
If you're attending upscale events like the opera or a theatre show then a suit will definitely be the standard attire required for these events. I these cases a black suit and tie with a white dress shirt will often be your safest colour choice.
NICE RESTAURANTS
Another occasion to wear a suit is when you eat at a very upscale restaurant. Do your research or even call the restaurant a day before and ask what the typical dress code is for the restaurant so that you don't look out of place.
BUSINESS NETWORKING AND PUBLIC SPEAKING 
And then some other less obvious occasions to wear a suit can be when attending business networking events and when presenting a speech or presentation to a group or crowd of people.
In these settings your aim is generally to build rapport and position yourself as an authority figure worthy of listening to, buying from or doing business with and your image must align with those objectives.
So be sure to refer back to this video when your attending an event in which you're unsure if wearing a suit is required or not.
I hope this information was helpful for you and if you enjoyed the video and article, feel free to like, share and leave your comments down below and keep tuning back into Improvemant.com for regular videos to improve yourself as a man.
And if you would like some help or guidance to improve or update your current your style and image, you can see all my men's personal styling and clothes shopping services here at my Image Doctor website