TYPES OF MEN'S SUIT PATTERNS: WINDOWPANE
TYPES OF MEN'S SUIT PATTERNS: WINDOWPANE
Hey guys, Dan Thomas from Image Doctor and Improvemant.com and watch the video above or read the article below to learn different TYPES OF MEN'S SUIT PATTERNS
If you wear suits often and want to own a number of styles you wear on rotation, you want to be aware of all the different types of suit patterns that you can choose from. By understanding the different patterns, you can then work out those you like and actively search for those suits in store or online.
Today we are taking a look at the windowpane suit pattern which is quite unique and is not worn as commonly as other suit patterns. Let's take a look at this example of the standard looking windowpane suit:
STANDARD WINDOWPANE SUIT PATTERN
Photo credit to http://www.styleforum.net
The windowpane suit is a very cool look and a great way to experiment with your style, demonstrate you're confident enough to mix things up and show some style versatility.
The windowpane suit pattern can come in a variety of different sizes so let's take a look at some of the different windowpane options.
LARGE WINDOWPANE SUIT PATTERN
Photo credit to http://vintagedopedealer.com
MEDIUM WINDOWPANE SUIT PATTERN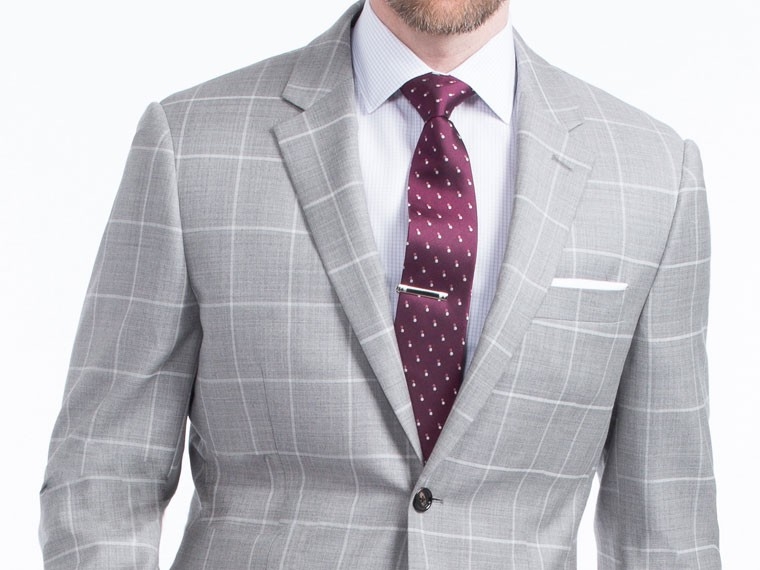 Photo credit to https://www.indochino.com/
SMALL WINDOWPANE SUIT PATTERN

DISCREET WINDOWPANE SUIT PATTERN
Photo credit to https://www.nordstromrack.com
OBVIOUS WINDOWPANE SUIT PATTERN
Photo credit to http://www.soletopia.com
Whilst I absolutely love the windowpane suit pattern, there are some guidelines that I strongly suggest you keep in mind when deciding to wear a windowpane suit. I have set out these guidelines below for you to consider, but they are just my suggestions and you can obviously take or leave my advice.
WINDOWPANE SUIT PATTERN GUIDELINES
I would never wear a windowpane suit to a job interview. You are best to stick with more conservative suits with no pattern or a very discreet pattern such as a faint pin stripe.
I would not wear a windowpane suit when meeting with a prospective or new client that I am meeting for the first time. On these occasions I would stick to more conservative and traditional suiting choices.
When choosing a very obvious windowpane suit pattern, I think you are best to then choose a shirt and tie that has no patterns or just very discreet patterns. This will allow the windowpane to be the dominant pattern without clashing with other patterns.
If wearing a windowpane suit in a corporate setting, I would choose a more discreet windowpane pattern. It is then more acceptable to wear a more obvious windowpane suit pattern for more social events such as attending the horse races, an engagement party or wedding, an up scale social event or date in which a suit is required.
Don't wear a windowpane suit to a funeral. Stick to more traditional and low key suits that ideally has no pattern or a very discreet pattern.
If you're budget or occupation requires you to only own one or two suits, I would not suggest you choose a windowpane suit pattern as it has less versatility and application to be worn in different settings.
However, if your budget and occupation lends itself to owning various suits that you wear in rotation, I think the windowpane suit pattern is an excellent choice and will certainly make you stand out as a fashion forward man who has the confidence and style awareness to mix things up.
I hope this information was helpful for you and if you enjoyed the video and article, feel free to like, share and leave your comments down below and keep tuning back into Improvemant.com for regular videos to improve yourself as a man.
And if you would like some help or guidance to improve or update your current style and image, you can see all my men's personal styling and clothes shopping services here at my Image Doctor website