THE MOTIVATIONAL ROCKY BALBOA STORY
THE MOTIVATIONAL ROCKY BALBOA STORY
Hey guys, Dan Thomas from Image Doctor and Improvemant.com and read the article below to learn THE MOTIVATIONAL ROCKY BALBOA STORY.
HIS VISION 
From a very young age Sly Stallone had no other dream or goal other than to be in the movie business and become known as a big screen star around the world.
HIS WHY 
He loved the idea of playing a character and telling stories that would not only provide entertainment and an escape for viewers, but inspire and motivate them to strive for more in their own lives.
HIS HURDLES 
When Stallone was born he was pulled out with forceps which sightly disfigured his face and resulted in the drool he is now famous for (Yo Adriaaaaaaaaaaaaaan)
In 1974 at the age of 28 and living in the city of New York, Stallone was now fiercely committed to making his dream of becoming a movie star a reality. But when he went to castings and auditions he was ridiculed for looking odd and told he would never be taken seriously by industry experts and any viewers due to his drool and the way he seemed to speak out the side of his mouth.
Stallone was kicked out of over 1'500 movie and casting agents offices in New York in just one year. You may be thinking there wouldn't even be 1'500 casting agents offices in New York and your assumption would be correct.
Stallone was so persistent and determined to realise his dreams he would go to the same agents offices 3,  5 and 7 plus times. Getting refused time and time again by all of them is what made up the high number of over 1'500 refusals.
Stallone persisted and got his first role as an extra in a film playing a slimy character that was beat up by the lead in the film. Whilst you may assume this was a positive step towards realizing his dream, the reality is that Stallone only got this role through pure annoyance.
On this one of many occasions, Stallone lobbed up to a casting agents office unannounced one afternoon, the agent refused to see him so Stallone sat and waited outside his office. After a number of hours the agent came out of his office and upon walking out of the office to head home for the day the again denied Stallone's appeal to talk with him.
Committed to his dream and unwavering in his approach, Stallone slept at the office overnight so he could be there first thing in the morning when the agent returned.
When the agent did arrive in the morning, he was so sick and tired of Stallone annoying him constantly that he gave him a part in the film out of nothing more than pity.
This tiny role was never going to pay the bills and by this stage Stallone could not afford to pay the electricity bill for his apartment and had to have the heat and lights turned off.
This situation would have bad enough for any man, but even worse for a married man as Stallone had the added stress and pressure of his dissatisfied and unhappy wife pleading with him to go and get a "proper job" and get serious with his life instead of trying to break into the near impossible and unrealistic movie business.
HIS DEDICATION AND FOCUS 
Stallone later revealed that he refused to take a "JOB" because he knew that doing so would have resulted in him getting into a comfortable rhythm of making enough money to get by, pay his rent, electricity bill and live a decent, "NORMAL"  life.
But Stallone wanted more than that, he was desperate to achieve his dream of carving out a name for himself in the movie business and knew the only way to make this dream a reality was to burn all the bridges that led to a "NORMAL" life.
HIS NEW DIRECTION 
Living in New York city with no internal heating or money to pay the electricity biller , Stallone went to his local library out of desperation to be in a warmer place during the day in place of  his freezing, dark apartment.
Having never been interested in books or reading, a man sitting next to Stallone in the library stood up, threw the book he was reading down on his seat and walked away. The book was the poems of the famous Edgar Allen Poe and Stallone was mesmerized by his writing and became somewhat of an Edgar Allen Poe scholar.
In doing so he awakened a new talent and desire: WRITING!! 
NEW DIRECTION BUT SAME SCENERY
Whilst Stallone's new found passion led him to writing a number of screen plays and even selling one called Paradise Alley, the sale was only $100 and whilst this was definitely a confidence boost to continue cashing his dream, $100 wasn't going to change the dire financial position he and his now bitterly unhappy wife were in.
Stallone's wife then went from bitterly unhappy wife to jilted and fed up ex wife when Stallone took the unthinkable but desperate step of hocking all the jewelry his wife owned without asking for her blessing.
As you can imagine his wife was neither impressed, nor willing to remain in such a state of misery any longer. Having her jewelry hocked was the final straw that led to her separating from Stallone and moving out of the apartment they had shared together.
HIS LOWEST POINT IN LIFE
You would be justified in thinking Stallone's situation could not get any lower than having to hock his own wife's jewelry to pay the rent only for her to leave him. Believe it or not though, his emotions and resolve were about to be put to the ultimate test.
Whilst his wife may have been justified in her frustrations and unhappiness in their marriage, Stallone felt like she never believed in him or showed him the support he wished she had in chasing his dream and not giving up until he achieved it.
Due to this lack of support, the one and only person in Stallone's life who showed him unwavering support and unconditional love was his dog. As a result Stallone truly loved his dog more than anyone else in the world.
But in Stallone's case, the most DESPERATE of times called for the most DESPERATE of measures. With what he felt was his only option, Stallone endured the lowest point of his life when he stood outside a liquor store in the blistering cold of a New York winter and offered his dog up for sale to strangers walking in and out of the liquor store as he could no longer afford to feed his dog let alone himself.
Stallone was offering $50 for his beloved best mate, but in a heartbreaking twist he was talked down into selling his dog for just $25 by a ruthless liquor store patron.
HIS BREAKTHROUGH 
2 weeks after selling his dog, Stallone was watching Muhammad Ali pulverize the little known Charlie Wepner in a bar. Despite Wepner lacking any great skill and being touted as just another early round knockout that will surely be added to Ali's record, he refused to give in and went the distance enduring a savage mauling in every one of the 15 rounds (sound like a boxing character you may know of?)
After witnessing this fight, Stallone had the light bulb idea to create a screen play based on the spirit, heart and determination Chuck Wepner displayed in face of the skill, talent and experience of the great Muhammad Ali.
What immediately followed was 20 straight hours of writing with the end result being the now famous Rocky screen play.
IT'S NOT A PRODUCT TILL SOMEBODY BUYS IT 
Now that Stallone had what he believed was a winning script, it was time to hit the pavement and sell the script to movie studios who would produce the film and make Stallone the star he had always dreamed to be.
There was a sizable problem though, every agent and studio he pitched the Rocky screenplay to HATED it. The common objections were that the story was:
PREDICTABLE
SAPPY
STUPID
SLOW
IT SHOULD EITHER BE AN ACTION SPORTS MOVIE OR A ROMANTIC DRAMA BUT NOT BOTH.
What do you think Stallone did in the face of this harsh criticism? Do you think he gave up on his dream? Do you think he changed the story? Do you think he scrapped the idea of making Rocky a box office success and starting work on a different screenplay?
Of course he didn't. Hopefully by now you realize that Stallone doesn't give in easily and has amazing persistence. But what did he actually do in face of this harsh criticism? WE WILL COME BACK TO THAT LATER!!
$325'000 TO $35'000
Stallone refused to let the criticism waver his dedication and commitment to realizing his dream and he finally met 2 studio exec's who like the Rocky screenplay and wanted to make the film.
Please remember that it's 1975 and at the time Stallone could barely afford to eat and had no electricity after using all his money to pay his rent and avoid being on the streets.
So can you imagine his joy when these 2 men offered him $125'000 for the Rocky screenplay? Not only had Stallone never even seen that amount of money, but selling the script and having that money would end his financial woes and the desperate state he had been living in for so long which cost him his wife and his beloved dog.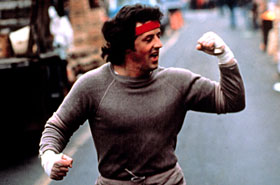 HIS 1 BIG PROBLEM
There was 1 problem though, Stallone thought the 2 men realised he was an actor and the character of Rocky was to be played by himself. When Stallone told the 2 movie exec's they were amused at first and dumbfounded once they realised Stallone was serious and would only sell the script if he was cast as the character of Rocky Balboa.
The 2 exec's pleaded with Stallone to be realistic about the fact he has  no credible acting skills, star appeal speaks and looks funny. Whilst they loved the script, they believed the only way the film could succeed was if a big time Hollywood star played the character of Rocky Balboa.
And the 2 men had the squeeky clean and handsome Ryan O'Neal in mind to play the character of Rocky Balboa who we now know to be a down on luck, rough around the edges man who says little and speaks with his actions.
Knowing this I want you to look at the image of Ryan O'Neal below and imagine how different the outcome could have been had Stallone not maintained the determination and commitment to his dream:
Instead of screaming "YO ADRIAAAAAAAAN", I can just imagine the wholesome Ryan O'Neil pitching in a soft voice "Oh Adrian dear, are you out there in the crowd somewhere?"
Thankfully for the legion of Rocky fans, the casting of Ryan O'Neil was not made possible as Stallone did the unthinkable and refused to accept the $125'000 unless he was cast as Rocky.
But the 2 movie exec's knew how special the script was. They desperately wanted to make this film and were willing to sweeten the deal to twist Stallone's arm. They upped their offer to a quarter of a million dollars a week later if Stallone would sell the script and not star in the film.
Can you imagine Stallone being offered $250'000 in 1975 when he could barely afford to eat and could not pay his electricity bill. Again Stallone did the unthinkable and refused to sell the script unless he played the Rocky character.
But low and behold the 2 exec's returned serve one final time and offered Stallone $325'000 for the script so long as Ryan O'Neill would play the character of Rocky Balboa. To put that figure into context, in 1975 the average price of a Sydney home was $28'000 which has risen to almost $900'000 (more than 30 times the amount) in 2015.
So at the time of receiving that offer, Stallone could have taken the money and purchased almost 12 standard priced Sydney homes ! Do you think he did though?
No way, he's Slyvester Stallone and he was prepared to give up 12 homes and return to his cold, dark electricity void apartment in place of letting a Hollywood pretty boy play the character he wrote for himself.
Rocky Balboa signified the struggle and determination that Stallone was living everyday of his life at the time and he knew there was only one man who could play that role and bring the struggle to life on screen.
So he did the truly unthinkable and denied the offer of $325'000 and walked away with his head held high and dream of being a leading man still firmly in place.
And what it took in the end was $35'000. The 2 exec's could not bear to part ways with the Rocky script so they caved in and told Stallone they would reduce their offer from $325'000 to $35'000 if he wanted to play the role of Rocky.
By no means did the 2 exec's share even a flicker of optimism for the success of the film with Stallone as the lead man. But the 2 exec's figured that paying Stallone a mere $35'000 salary and providing the measly production budget of just 1 million dollars (whilst a lot of money in general this is peanuts in the film business) was a small risk worth taking.
HIS DREAM REALISED
With his persistence and determination finally delivering the result he was so committed to, it was time for Stallone to get to work and use that 1 million dollars to take the metaphorical story of his life and transform that vision onto the big screen.
Having only held a few extra's roles D grade films as well as shooting one pornographic film in the early 1970's,  the odds were not looking good for all those involved in the production and filming of Rocky Balboa.
Whilst the reserved hopes of all involved were justified,  there was one man on set who had total belief in the film. Whilst most other Hollywood exec's were trying to create movies that provided an escape for the viewers, Stallone believed his raw account of real life struggle and also romance would provide a genuine connection to so many people facing the same struggles in their own lives.
SO HOW DID ROCKY DO?
With a leading man on a meager $35'000 salary and an almost unworkable budget of 1 million dollars, Rocky:
GROSSED OVER 20 MILLION DOLLARS AT THE BOX OFFICE 
WON THE 1977 OSCAR FOR THE BEST FILM OF THE YEAR BEATING OUT THE FAMOUS TAXI DRIVER, ALL THE PRESIDENTS MEN AND 3 OTHER NOMINATED FILMS
CATAPULTED SYLVESTER STALLONE INTO SUPER STARDOM AS THE BIGGEST ACTION HERO OF THE 1980'S AND BY FAR ONE OF THE HIGHEST PAID ACTORS THROUGH THE 80's, 90's, 2000's AND TO THE PRESENT DAY AS A ACTOR, WRITER AND PRODUCER. 
A FOLLOW UP OF 6 MORE ROCKY INSTALLMENTS WITH THE MOST RECENT HITTING CINEMAS IN DECEMBER OF 2015. 
Remember earlier I told you we will come back to how Stallone dealt with the harsh criticism dished out by the agents and producers who read his Rocky script? Now that you know Rocky won the 1977 Oscar for best picture , what Stallone had actually done was write down every criticism that was sent his way at the time.
And instead of allowing that criticism to deter him, he used the words spoken to him as his motivation to prove those people wrong and get the Rocky movie made with himself as the lead character and star of the film.
On the night of the Oscars after winning the best picture of the year, Stallone actually read over all those criticisms that had spurred him on and has since stated that the best form of revenge is huge levels of SUCCESS!!
THE COOLEST PART
$325'000 in 1975 was an incredibly large sum of money that would have changed Stallone's life forever. But for a guy who was so broke he could barely eat, the $35'000 salary he received was still an incredibly large sum of money to him at the time.
To put the sum into context once more, the average Sydney home in 1975 cost $28'000 and costs almost $900'000 in 2015. So $35'000 would have been a significant financial windfall for Stallone at the time.
So what do you think he did with the money? Bought a house? A flash car? A Rolex for each of his family members? 
The first thing Stallone did once he signed on to play Rocky in the film he wrote was go back to the Liquor store where he previously stood at his lowest point and sold his beloved dog for $25.
Stallone stood outside the Liquor store for 3 days waiting for the same man to walk in, and when the man finally did Stallone explained his situation and asked to buy back his dog and offered $100 which was 4 times the sale price.
The man explained that he was now attached and $100 was not enough.
Stallone then offered $500: NO DEAL
$1'000: NO DEAL
$5'000: NO DEAL 
$15'000: NO DEAL
$15'000 AND A PART FOR THE MAN IN THE YET TO BE SHOT ROCKY FILM: DEAL BABY
And you want to know another cool thing, the dog Butkus that Adrian bought for Rocky as a gift in the film is actually the dog that Stallone sold for $25 and bought back for $15'000.
YO BUTKUS 
So if you have a dream you're chasing and a vision that's crystal clear in your mind, but blurry or non existent in the mind of others, there is only one person responsible for taking that dream and making it a reality.
And whilst suggestions, advice and criticism can be detrimental, they can also be the driving force that allows you to do WHATEVER IT TAKES to realise your dream and live life with no regrets.
I hope this information was helpful for you and if you enjoyed the video and article, feel free to like, share and leave your comments down below and keep tuning back into Improvemant.com for regular videos to improve yourself as a man.
And if you would like some help or guidance to improve or update your current your style and image, you can see all my men's personal styling and clothes shopping services here at my Image Doctor website