MEN'S STYLE MISTAKES: PANTS TOO LONG
MEN'S STYLE MISTAKES TO AVOID
Hey guys, Dan Thomas from Image Doctor and Improvemant.com and watch the video above or read the article below to learn another common MEN'S STYLE MISTAKE TO AVOID. 
If you missed my previous videos on common men's style mistakes and my advice to correct each I've included all videos below in the description field for you.
And today's example of a common men's style mistake to avoid is WEARING JEANS AND DRESS PANTS THAT ARE FAR TOO LONG and have too many folds of fabric between the shin and your shoes.
When working with my personal styling clients through my Image Doctor business, this is by far the most common men's style mistakes I encounter time and time again.
Take a look at these images of different celebrities wearing jeans, chinos and dress pants to understand exactly what I'm referring to regarding their pants being excessively long with too many folds of fabric at the bottom of the pants.
BAD FIT EXAMPLES 
photo getty images
As you could see in those images, the men's jeans are too long for their leg length which resulted in considerable bunching, folding and creasing from the knee down to the ankle.
Wearing pants that are too long has several negative drawbacks to your appearance and style which I listed for you below:
WHY THIS IS A MEN'S STYLE MISTAKE
YOU APPEAR SHORTER
Excessively long pants will make you appear shorter than you actually are. The core aim when coordinating your outfits is to create a seamless pathway from the feet to the face and pants that are full of folds will achieve the exact opposite of this aim.
In addition, people will be forced to draw their eyes to the very noticeable and attention grabbing bunching and folds of fabric at the very bottom of your body which can create the illusion of a minimized stature that has you appearing shorter than you actually are.
YOU LOOK OUT OF PROPORTION
Excessively long pants can make your legs look wider than they actually are which will look even worse if the clothing on your top half is the correct fit. This is because your bottom half will seem out of proportionate to your top half. Doing so will work against the masculine V shape that all men desire and women find so attractive.
LAZY/CHEAP/NO STYLE AWARENESS
All jeans are manufactured to be very long so that the same colours and styles can be mass produced and purchased by both short and tall men.
Unless you are very tall and happen to choose a pair of jeans that are exactly the right length for your legs, you must have the hem of your jeans altered to a suitable length.
When you don't have your jeans hemmed to the correct length, it can appear as though you are either:
Too lazy to have them hemmed
Can't afford to have them hemmed or
Have no style awareness to realise the jeans required this alteration.
COVER UP NICE SHOES
The excessive folds of fabric above the shoes will drape and sit on top of your shoes and cover up what are potentially great looking and expensive shoes that should be highlighted and showcased as a positive aslect of your overall outfit.
MAKE FEET LOOK SMALLER
The excess fold will also cover up a large surface area of your feet which will make your feet appear smaller than they actually are. This will create disproportion which is every stylish man's enemy. All of the above outcomes are very damaging to your appearance and the first impressions you will create in professional and social settings.
PANTS BREAK
Check out this great article from Primer magazine to learn all about pants breaks and why it's important for your style and image reputation.
PANTS THAT ARE A GOOD LENGTH
photo PacificCoastNews.com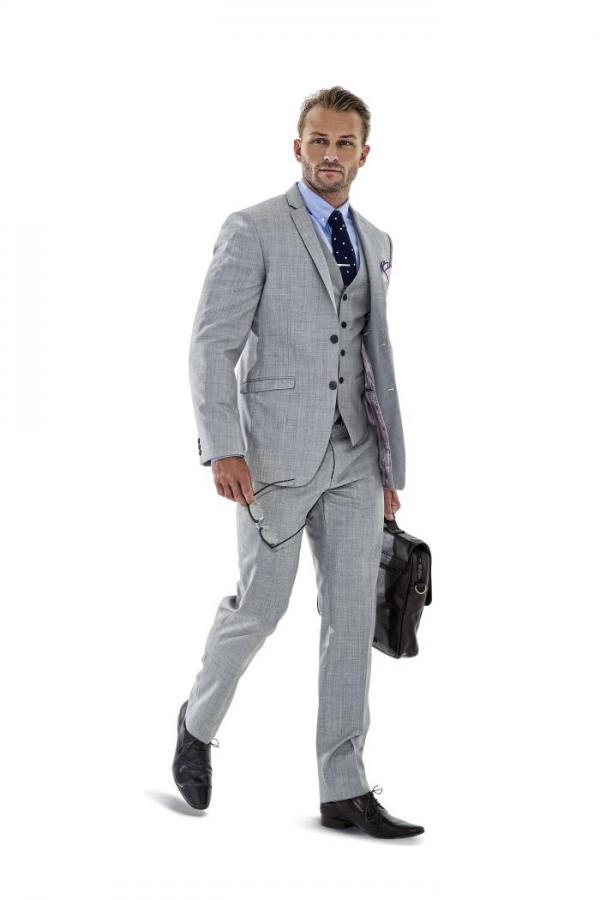 BENEFITS OF THE CORRECT PANTS LENGTH
YOU WILL SEEM TALLER 
When your jeans are the correct length, you will create a more streamlined appearance that can make you look slimmer and taller.
YOU WILL BE IN PROPORTION
Pants that fit correctly will sit and drape on your body properly and this means that your legs will not appear as either wider or skinnier than they actually are. If you are also wearing correct fitting clothing on your top half, the result will be a complete outfit that is symmetrical and proportionate which will significantly increase the first impressions you create.
FULLY VISIBLE FOOTWEAR
What's the point in choosing stylish footwear if it's buried under folds and folds of excessively long pants. When your pants are the correct length your shoes will be on full display and can be a stand out element of the outfit all on their own.
HIGH LEVEL OF STYLE AWARENESS
In direct contrast to the lazy, daggy and non stylish impression that excessively long pants can create, pants that are a suitable length will create a more refined and stylish look that suggests you have a solid understanding of men's clothing guidelines.
I will now show you some examples of jeans that are too long followed by jeans that are a length that I suggest will serve your appearance far better and create stronger impressions for you.
TOO LONG
GOOD LENGTH
TOO LONG
GOOD LENGTH
TOO LONG
GOOD LENGTH
photo Adam Jones[SPLASH]
TOO LONG
photo https://www.dstldjeans.com
GOOD LENGTH
TOO LONG
GOOD LENGTH
photo http://fashionandstyleformen.tumblr.com/
TOO LONG
GOOD LENGTH
So hopefully you could see from those images that the first examples did not look as sharp and well presented as the second examples and you will now make the conscious effort to ensure you make the necessary alterations when purchasing new pants so you are presenting the strongest possible appearance and creating the reputation as a sharp dressed man.
If you enjoyed this post, feel free to like, share and leave your comments below and keep tuning back into Improvemant.com for regular videos to improve yourself as a man.
And if you would like some help or guidance to improve or update your current your style and image, you can see all my men's personal styling and clothes shopping services here at my Image Doctor website
PREVIOUS MEN'S STYLE MISTAKES AND TIPS VIDEOS