DWAYNE JOHNSON SUCCESS TIMELINE
DWAYNE JOHNSON SUCCESS TIMELINE
Hey guys, Dan Thomas from Image Doctor and Improvemant.com and watch the video above or read the article below to learn the DWAYNE JOHNSON SUCCESS TIMELINE.
Dwayne "The Rock" Johnson is one of my favourite successful celebrities and I place him in the same basket as Will Smith in terms  of having an infectious personality that's brimming with positivity and a charisma that strikes the perfect balance of exuding confidence with no hint of arrogance.
Despite his incredible success though, The Rock had to fight and claw his way to the top and underwent many hard times, a great deal of doubt and even a strong bout of depression as a result. But hard work, persistence and a ton of belief led to great success and today I chronicle his journey in the Dwayne Johnson success timeline below:
DWAYNE JOHNSON SUCCESS TIMELINE
• Born Dwayne Johnson on may 2 1972 in Hayward California. 
• Father was a professional wrestler and travelled a lot for work. This resulted in Johnson living in many different states throughout his child and teenage years as well as living in Hawaii and New Zealand. 
• Johnson was a stand out gridirion and track and field athlete at high school and garnered early interest from college recruiters.
• After fielding dozens of offers from division 1 colleges Johnson accepted a full scholarship to the university of Miami to play college football. 
• In his first year with the Miami university Johnson was on the national championship team of 1991. However by the following year a serious ankle injury cost him his position on the starting team and the momentum he was trying to build towards becoming a pro NFL player. The player who actually replaced Johnsion during his injury was future NFL star Warren Sapp who never relented that position on the team.
 
• Johnson graduated from college in 1995 and joined the practice squad of the Canadian stampeders in the Canadian football league. To his dismay Johnson was cut from the practice squad after just 2 months.
• At this time Johnson returned to Miami Florida and was staying in his Dad's small apartment. He literally had $7 dollars to his name at this point in his life and went through a 3 month period of depression in which he didn't leave the house and didn't know what was next in his life after being so focused on football for so many years through high school and college. 
• Having a father and close to 15 relatives who had been or were currently professional wrestlers at the time. Johnson approached his father with the idea of chasing a pro wrestling career himself. Knowing the hardships and lack of financial security the sport offered, his father was very reluctant at first before finally giving in to the Rocks wishes to train him. But his father gave Johnson the stern warning he would not take it easy on his son. His father stayed true to his word and due mainly to a lack of funds the pair actually undertook his wrestling training on a boxing ring which the Rock has since described as not much different to landing on cement. 
 
 
• After gaining some try-out matches Johnson impressed enough to be given a small entry level WWF contract by Vince McMahon who gave him the name Rocky Maiva. Under this title Johnson gained no fan fare and was in fact hated by wrestling fans during the first stage of his wrestling career. At this time signs could be seen in the crowd that read "Rocky Sucks" and other similar unpleasantries. Much of the dislike was due to the Rock overplaying his acting hand and coming off somewhat cheesy and pretentious.
• Johnson was persistent and determined despite his lack of fan support and worked diligently at his craft to improve not only as a technical wrestler but more so as a showman and entertainer. This paid off and in 1998 Johnson began referring to himself as "The Rock" and also "The people's champion" which was well received by crowd goers and his popularity grew and grew as a result of his new character and less cheesy persona. 
 
 
• For close to 10 years The Rock would absolutely dominate the sport of wrestling and cement his title as the most popular, most successful and highest paid athlete in a fiercely competitive sport.
• Johnson co-wrote an autobiography with Joe Layden, titled The Rock Says…. It was published in 2000, debuting at No. 1 on The New York Times Best Seller list and remaining on the list for several weeks. 
 
• After dabbling in some small TV roles towards the end of his wrestling reign, Johnson hosted Saturday night live in 2009 and his appearance got the attention of Hollywood. In his appearance Johnson displayed great comedic abilities and timing that most people did not expect from a hulking wrestler and former football player. 
 
• This appearance led to movie producers knocking on Johnson's door and after several cameos and small movie roles, Johnson's first leading role in a Hollywood film was in the Scorpion king in which he was paid the highest ever amount for an actor in a debut lead role which was $5.5 Million dollars.
•  In 2004 after juggling another 3 movies whilst continuing to wrestle full time, the Rock decided to retire from wrestling to concentrate on his acting career full time. In 2005 he took on his first substantial role opposite Uma Thurman and John Travolta in the film Be Cool in which he played a gay body guard with an afro and this role did a great job in displaying his comedic side that would later become a fixture of several film roles.
• In 2006, Johnson founded the Dwayne Johnson Rock Foundation, a charity working with at-risk and terminally ill children. On October 2, 2007, he and his ex-wife donated $1 million to the University of Miami to support the renovation of its football facilities; it was noted as the largest donation ever given to the university's athletics department by former students. The University of Miami renamed the Hurricanes' locker room in Johnson's honour.
• After a number of other successful films over the next 3 or 4 years including Gridiron Gang and Get Smart, Johnson returned to Wrestling for 3 years which he later explained was not a financial decision, rather an opportunity to give back to the sport that gave him the opportunity to gain great success to live the life he now lived. And he certainly did give back as he broke all previous live attendance and pay per view numbers for the matches he appeared in over that period of time.
•  In 2013 Johnson returned to the big screen and appeared in 4 movies which grossed a combined $1.3 billion dollars in sales which was a record in itself. What was most amazing was that all 4 movies were the 2nd, 3rd, 4th or 5th movie in a franchise series in which the Rock had not appeared in any of the previous movies. Given his enormous fan following and popularity it was no coincidence that his appearance in the latest instalments of these franchised movies including GI Joe 2, The Jouney 2 and Fast and the furious 5, all surpassed the previous instalments by triple and even quadruple the amount of movie sales.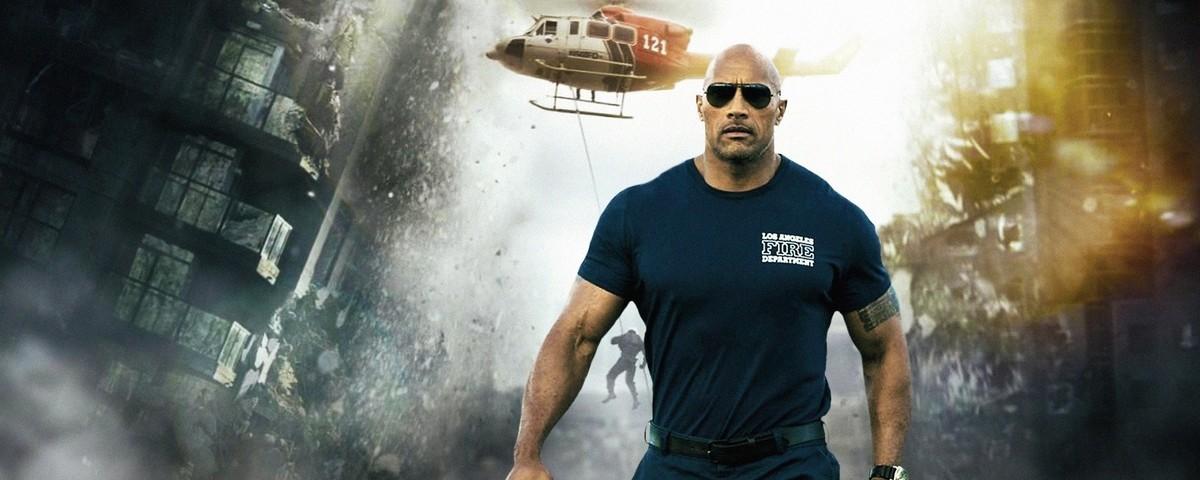 • On December 16, 2013, Forbes named Johnson the top-grossing actor of 2013, with his films bringing in $1.3 billion worldwide for the year. Forbes credited the success of Fast & Furious 6, which grossed $789 million globally, and Johnson's frequent acting work as primary reasons for him topping the list.
• On May 21, 2015, Johnson set a Guinness World Record for most selfies in three minutes, taking 105 selfies with fans during the premier of San Andreas in London.
• Johnson also has dabbled in television by setting up a television production company called 7 Buck Productions. This name was chosen because when Johnson was dropped from the Canadian football, he literally had only $7 bucks to his name at the time. Through this company Johnson has produced a number of reality shows and the popular HBO series Ballers which he appears in as the lead character.
• Johnson now boasts a reported net worth of over $125 Million dollars, a happy relationship to his girlfriend of 7 years Lauren Hashian, children he loves and adores and a string of movies lined up to be filmed in 2016 and 2017 that are sure to continue to build the success, popularity and net worth of Dwayne "The Rock" Johnson.
So as you can see the success timeline of Dwayne "The Rock" Johnson is one of challenge and perseverance before great success and should serve as motivation to us all that there is often much more to a success story than meets the eye and very rarely does any level of success come easily and without a great deal of effort and hard work.
I hope this post today has provided you with motivation and inspiration for your own business, career or life and if you enjoyed this post feel free to like, share and leave your comments below and keep tuning back into Improvemant.com for regular videos to improve yourself as a man.
And if you'd like to dress sharper, feel more confident and actually enjoy the process of going clothes shopping you can see all my men's personal styling and clothes shopping services here at my Image Doctor website.