8 REASONS WOMEN LIKE MISSIONARY POSITION
8 REASONS WOMEN LIKE MISSIONARY POSITION
Hey guys, Dan Thomas from Image Doctor and Improvemant.com and stay tuned to learn 8 REASONS WOMEN LIKE MISSIONARY POSITION.
If sex was ice cream then guys are rarely asking for a double scoop of vanilla. If a guy did ask for vanilla ice cream he'd follow up with a request to dunk those vanilla scoops in hot chocolate sauce and sprinkle it with nuts, hundreds and thousands and any other toppings in the ice cream van.
When it comes to women though, many of them love vanilla and that includes a double scoop of vanilla with no toppings thrown in.
By vanilla I'm referring to the missionary sex position which for most couples is often a sore point in which the man wishes his wife or girlfriend was in a sex swing or on top of him as he looked up at the ceiling mirrors in a 50 shades of grey style sex dungeon.
But let's face it fellas, women hold the power in bed as they can very easily and with very little guilt just take away what all men crave so much. So when the lady wants vanilla missionary position sex, the ladies getting missionary position sex or you're going to bed frustrated.
So today I thought I'd somewhat ease men's pain by explaining 8 reasons why women like the missionary sex position so you can at least understand why this is the case.
# 1 – LESS EXPOSED
Reason number one is that many women, even seemingly confident and gorgeous women feel exposed and vulnerable when naked in front of men, even if this is a long term boyfriend or husband. As a result of this self consciousness, women may gravitate to missionary sex as their bodies are less exposed in this position.
There bums or not visible and the laying position of missionary causes the ladies stomach to appear flat. This is appealing to most women as these are 2 areas of the body in which they commonly feel self conscious about.
# 2 – THE BIG O
Reason number 2 is that the missionary position is actually very effective in increasing a ladies chance of reaching orgasm. If you've watched my previous videos around sex then you would of heard me say 2 things countless times which is that:
1.Over 70% of women require clitoral stimulation to reach orgasm
2.The most effective sex positions to reach orgasm involve dual stimulation of the clitoris and vagina simultaneously.
Missionary position ticks these boxes because the weight and positioning of your body is actually pressing down against and stimulating her clitoris as you also penetrate her vagina.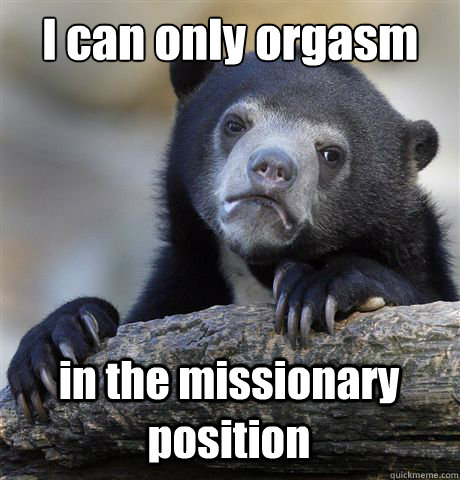 # 3 – KISSING
Reason number 3 is that unlike the vast majority of sex positions, missionary allows great ease for kissing one another during sex. If you took a poll of what women want from a husband or boyfriend, more affection would be one of if not the most common response given.
Just like men love sex and sport, women love kisses, cuddles and hand holding. So combining the intimacy of sex with the ability to kiss her man makes the missionary position appealing to many women.
# 4 – DON'T HAVE TO STEER THE SHIP
Reason number 4 is that a man is more in control of the missionary position which for some women can be appealing as they can focus on the sensations of sex and not be distracted by how they are performing.
# 5 – COMMUNICATION
Reason number 5 is that both verbal and non verbal communication is at it's highest when in the missionary position. If you watch my videos on understanding women and relationships then you'd know I'm like a broken record when it comes to the fact that the basis of a women's satisfaction in her relationship, marriage and sex life is the level and strength of emotional connection she feels towards her partner.
All women consciously or unconsciously desire effective communication in a relationship and this is another reason missionary appeals to them as the close proximity allows women to use their intuition and instincts to watch and read your body language (non verbal communication) whilst also being able to look directly into your eyes and hear any words you communicate to her.
# 6 – SIMPLICITY
Reason number 6 is the simplicity of the missionary sex position. The simple fact of the matter is that after a long day at work then maybe cooking, cleaning and chasing the kids around the house your lady may be very exhausted and her options are to either deny you sex or grant you sex but do so in a position that is not very taxing for her.
# 7 – THE 5 SENSES
Reason number 7 is the activation of all 5 senses that takes place during missionary:
SIGHT : Firstly there is sight in which you both have very clear and close eye contact of each others faces which is displaying the pleasure you are both hopefully experiencing. If you compare this to most men's favorite position of doggy style, the lady cant see your face at all to feel as connected to you.
TOUCH : Next is touch and as pointed out already, missionary is the most intimate and tactile of all positions which feeds directly into a woman's sense of touch.
TASTE : Then we have taste and due to the accessibility of one another to easily kiss throughout missionary sex, the lady will also be satisfying her sense of taste as the 2 of you kiss during missionary.
SOUND : Whilst sound and hearing moans, groans and sounds of pleasure is present with all sex positions, it's once again the close proximity and intimacy of the missionary position that really elevates her sense of sound during this position.
SMELL : And finally there is the sense of smell and better than with any other position a lady will be able to take in the scent of your cologne mixed with your sweat as you have mission sex in which her nose is often nestled into your neck, shoulders and upper back.
# 8 – INTIMACY
And reason number 8 is the closeness and intimacy of the missionary position which again lends itself very well to the natural desires harboured by women in relationship to their partners. As mentioned earlier women greatly crave physical touch and affection from their man. However very few men provide this type of tactility or at least not the level and frequency at which woman desire.
It could be seen that as a result a woman requests and enjoys the missionary position because she's using your desire to have sex to feed her desire to be in a very close, almost hugging like sex position in which she can feel the closeness and intimacy that is lacking outside the bedroom.
So for all you guys who hate the missionary position and are craving more interesting sex, my suggestion is that you start providing your partner with non sexual affection through:
Kisses
Cuddles
Hand holding and
Couch spooning
If you provide her with this non sexual affection she may not feel the need to use the missionary position as her only way to obtain intimacy and affection from you.
I hope today's video has shed some light on this topic for you and you may now have a better understanding of why women like the missionary position as opposed to just assuming she is a prude or only likes vanilla type sex. If you enjoyed this post, feel free to like, share and leave your comments below and keep tuning back into Improvemant.com for regular videos to improve yourself as a man.
And if you would like some help or guidance to improve or update your current your style and image, you can see all my men's personal styling and clothes shopping services here at my Image Doctor website.